You can bag highly paid IP related US jobs on a work-from-home basis. Jobs that pay more than top Indian law firms, and there is almost no competition. Do you find that hard to believe?
When I tell law students, lawyers, and other IP enthusiasts that it is possible to get IP-related roles abroad, from countries like the USA and UK, which you can remotely serve sitting in India virtually, they find it hard to believe and ask me how this can be possible.
The first question usually is: I do not have a license for practicing law in those countries. How can I work there without breaking the law?
Second, I have no idea where to start applying. I sent a few emails and did not hear back. Is it really possible to get such jobs?
Third, why will they consider a foreigner for this role? Why not just someone from their country?
Fair questions and they deserve proper answers.
Additionally, I will also tell you about roles that exist in IP law even when you are not qualified to practice as a solicitor or attorney in any given country.
Before anything else, it is time to explain to you what is talent arbitrage and why it is the defining force of the global economy in 2020.
If there is one thing that you want to understand and take action on the basis of, then that is talent arbitrage.
What is Arbitrage?
This is a term that is very popular in the stock market, but it is a concept you may have come across in economics class.
Due to various reasons, two markets may not value the same thing in the same way. For example, if potato costs Rs. 50 per kilo in Chandni Chowk market in Delhi, it maybe the case that in Salt Lake, Kolkata, potato is selling for Rs. 20 per kilo due to local demand and supply issues. Now if someone can bring potato to Chandni Chowk in Delhi from Kolkata and sell the same in the Chandni Chowk market, they can make profit from this activity.
This profit is called arbitrage.
Sometimes, it is possible that stock of a company may be differently priced in two different stock markets – in which case the arbitrage experts will buy the stock from one stock exchange and sell in the other, eventually bringing the prices at per in both stock markets.
Arbitrage in this sense is considered to be free money and involves no risks.
So the idea of arbitrage is to take something undervalued from one market and sell in another where it is valued more and benefit from the price difference.
What is Talent Arbitrage
Talent is very critical for the success and growth of organizations. Whether a business will succeed or not often depends a great deal on what kind of talent it is able to attract.
No wonder that the battle for talent is fierce, and it is hard to hire the best talent unless you have a very big brand and a lot of money to pay. As a result, incumbent big businesses tend to pick up all the good talent, starving other companies and organizations which cannot get access to good talent.
However, what if you could find talent in markets where these companies are not looking?
At LawSikho, we faced a huge talent problem when we were starting, so early on we decided to find talent arbitrage opportunities.
Around 2017, we started promoting work-from-home as a preferred model of employment, as a result of which, we were able to recruit many work-from-home mothers who wanted more flexible jobs, and superior talent from small towns.
There are many experienced and talented women who leave their jobs after they give birth to children because they find it hard to go to a physical office for 10-12 hours, away from their children. However, they can be very productive if they can work from home. We started specifically looking for such professionals. Today, several teams in LawSikho are led by work-from-home mothers.
In India's small towns, there are many highly talented people who cannot travel to big cities for various reasons. But working with them meant we were able to find really good quality people at our modest bootstrapping startup budgets. Also, if someone lives in a big city like Delhi or Mumbai, the living cost is so high, that salary must be higher. It is not the case when one is working from a small town as living costs and overheads are much lower.
This is talent arbitrage, and this has reached a whole new dimension as many companies and law firms today are getting used to working online. US and European companies are doing this exact same thing in technology business – they are hiring highly talented Indian developers and data scientists, and letting them work online from India.
Can this happen in law as well?
India v. USA – Talent Arbitrage Opportunities
I explained the talent arbitrage opportunity that exists within India, but the global talent arbitrage opportunities are really massive and very lucrative. In technology, this has become commonplace. In fact, companies like TCS, Infosys, Cognizant etc have been built to harness the power of talent arbitrage in tech consulting space. In the legal domain, however, we have not seen much successful talent arbitrage except for in the case of some successful LPOs.
A new opportunity has arisen after the pandemic, as organizations, individuals, and law firms are now far more accustomed to working remotely than they were 10 months back. The mental barrier and inertia that stopped organizations from exploring global talent arbitrage opportunities have all but vanished.
What is the difference between hiring a lawyer who works in San Francisco but telecommutes or works with you online anyway v. a lawyer who is sitting in Pune and delivering the exact same work? Apart from a potential regulatory or license issue, there is not much of a hiccup provided the lawyer has the requisite knowledge and skill sets.
And while setting up a process with an LPO or setting up your own LPO in India as some large international law firms like CLifford Chance has done is a lot of work, and requires specific effort outside many lawyers comfort zone or scale of budget, just hiring one more legal assistant online in the team, who will work virtually is not such a challenging proposal.
The biggest shift is that today many US lawyers or law firms are willing to hire an Indian lawyer on a freelance basis, or for a project directly, without the costly intervention of an LPO in between, because they have learned to work remotely and they see the very big talent arbitrage opportunity. After all, the amount of money they can save by hiring legal assistants and lawyers from India and other similar geographies is quite massive.
For most Indian lawyers, even if they get paid $10 per hour and work 180 hours in a month, that beats the salary paid by the top Indian law firms at the entry level, with far better work conditions. This can be achieved, however, only when we remove the LPO working in between, making the system far more scalable and profitable for both sides.
What is stopping Indian lawyers and foreign employers from jumping onto this opportunity?
License issues
Indian lawyers cannot practice US law, even if from Indian soil. They cannot solicit clients. For a lot of work, such as filing a trademark in the USA for a foreign entity or individual, qualification as an US attorney is necessary. While it is possible for Indian lawyers to get US qualification, most do not have it. However, this need not stop you from benefiting from talent arbitrage.
While you cannot work as a lawyer, you can assist any US attorney, and basically do all the work that they would have done, which they after you are done review and finalise. This is what paralegals often do anyway, and there is no legal bar on lawyers hiring non-qualified people to assist them with legal research, drafting, organizing case files, doing administrative work of all sorts that take their time, and even help them with work like writing marketing articles, help with marketing and PR and what not! As long as they review and finalize the work on their own, there is zero problem.
Hence, license issues are not hard to overcome for a lawyer or organizations in the USA if they want to benefit from talent arbitrage.
In fact, during my research, a partner at a New York law firm informed me that many law firms now have a three tiered pricing approach. If you want the entire work done by US attorneys, there is a price slab, whereas if the work is to be done in India at an LPO, the pricing is different. There is also a pricing where there is a mixed team of US attorneys and Indian outsourced lawyers working together on a project. This approach gives a great deal of choice and range of options to the client.
Skill and knowledge issues
The skill and knowledge gap is not all that large, but still, there is no ready made solution to bridge the gap. For instance, drafting a patent claim or preparing a trademark filing is not materially different in India and the USA. If someone knows how to do this in India, they can potentially do this for US clients as well, provided that they understand US specific legal issues and understand the US legal system. They also have to know how the USPTO functions and how to get the work done.
Take a look at this Upwork listing for an IP paralegal, for instance: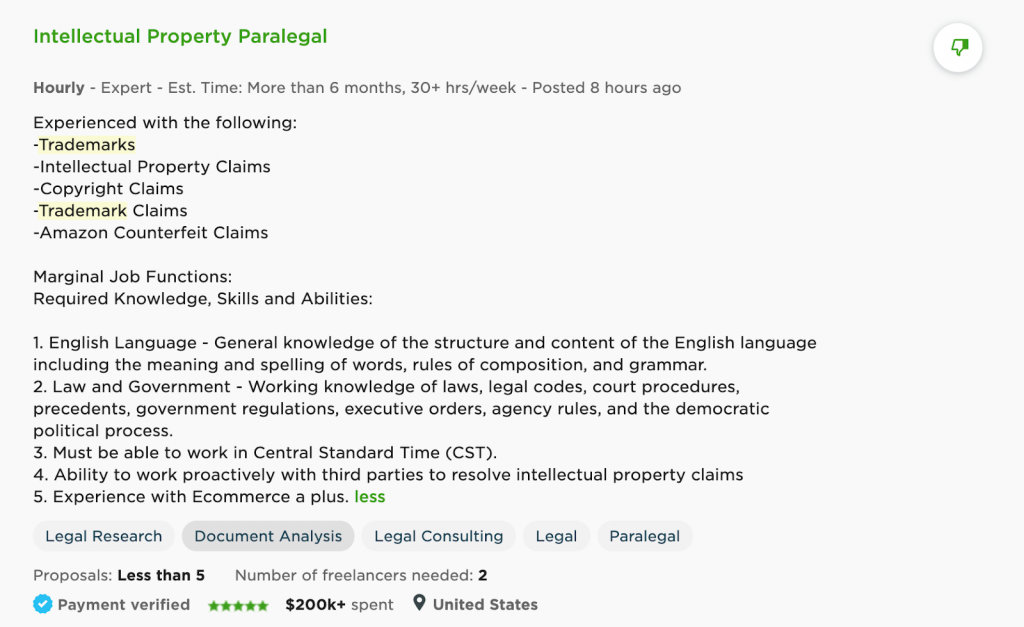 Here the client wants you to know about: Law and Government – Working knowledge of laws, legal codes, court procedures, precedents, government regulations, executive orders, agency rules, and the democratic political process.
For most Indian lawyers, this knowledge is missing when it comes to US specific information.
What is the substantial work the client would want you to do? Here is what the above ad says:
Needs to hire 2 Freelancers Experienced with the following: -Trademarks -Intellectual Property Claims -Copyright Claims -Trademark Claims -Amazon Counterfeit Claims
I am guessing here that 'trademark' means – trademark filing, prosecution and trademark infringement notices. Amazon counterfeit claims is quite a giveaway.
So definitely, this basic knowledge of trademark related work is very essential. However, this will not cut it, the client wants to make sure that you are familiar with the US legal system additionally.
I am quite sure that they would want to know if you have worked with USPTO in the past and if you have any experience of doing such work before selecting a candidate.
It is not easy for an Indian lawyer to learn this knowledge or skills, due to lack of any organized way to learn these things, short of going for an LLM in the USA, which may also not teach the exact practical skills that you need to do this work.
How much could you earn from work like this? It is quite common for US clients to pay $30-40 USD per hour for such work even to paralegals, as you can see in Upwork by searching for trademarks related work. I am sharing a link here for your convenience: https://www.upwork.com/ab/jobs/search/?q=trademark&sort=recency
Which means if you can charge even $10-20 per hour, which is much cheaper than what most based in US can afford to charge, you can earn over $2000-4000 for around 200 hours of work in a month, which translates to a whooping 1.5-3 lakh in INR, which not even top IP law firms pay in India! And of course, as you accumulate more experience and credibility, you can raise your rates.
Note that any US attorney will charge over USD 100-200 per hour for that work!
This is just step 1. Step 2 should be to qualify as an US attorney, and look for full time attorney jobs, which could quadruple your income, especially if you move to the US.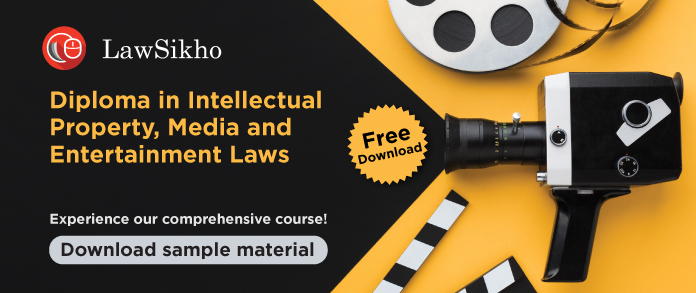 Trust and credibility issues
How can a US lawyer or law firm or other organization trust you with such work? Will you be able to get the work done? Will you leak confidential information? Will you do a bad job and waste their time? How do they know you have the right skills and a good attitude? Where can they look for you anyway?
These are the questions that stop US legal businesses, and also in other developed countries from hiring Indian lawyers and legal assistants.
You have to beat these factors to land the opportunities that can truly change your life.
First, it will be great if you can show them a certification from a trusted US university. If they can trust that you know the work they have for you, that is half the battle won. Also, you have to make sure that you know the work that you are asking for.
Second, get some work ex. Help a US startup or a lawyer pro bono or almost free if needed, but get some good experience of doing this work that you want to do as paid gigs later. Landing paid gigs is far easier when you can confidently say that you have done that work several times earlier and able to explain the nuances in an interview. The experience of doing US work previously, ideally coupled with a strong recommendation of good performance, will do a world of good when you are looking for such remote roles.
Third, you can write articles on these issues and publish to showcase your knowledge, make a nice website that showcases your skills, testimonials of former clients and accreditations, and basically explains to a foreign employer while they should hire you.
Why it is a great idea to start in this way if you want to later migrate to the USA
Many Indians want to work abroad. For lawyers, this dream is very attractive given the kind of work that international law firms do and the kind of money you can get paid as a successful lawyer in a country like the USA.
If you dream of having an international legal career, in a developed country like the USA, this should be a starting point. Doing this will ensure that you have existing professional network in that country, which means you can land a job while you are studying there if you choose to go for an LLM or MBA in that country, and relatively easily bag a job after you finish your degree. There is also a very strong possibility that if you do great work for your clients, one of them will invite you to come into USA to work for them in person from their office and sponsor your visa.