I'll come straight to the point, one that we all know: India does not have enough judges.
Currently, more than 4.7 crore cases are pending across different courts owing to a shortage of judges. Think about this. India has about 21 judges per 10 lakh people as on December 31, 2021, while the sanctioned strength of the Supreme Court court is 34 judges, and for the 25 High Courts is 1,098.
This severely jeopardised ratio means that it takes decades to clear the backlog of cases. In fact, 40 percent of posts for judges are vacant in Bombay High Court alone.
Why is it that despite this severe shortage of judges, not enough young law students or law degree holders are stepping up to fill the vacancies?
I remember, during my law school days when I first started to explore different career opportunities, the prospect of becoming a magistrate by cracking the Judiciary examination tempted me the most. While corporate jobs were glamorous and well-paying, I could not help but admire the respect and authority offered to the Judiciary.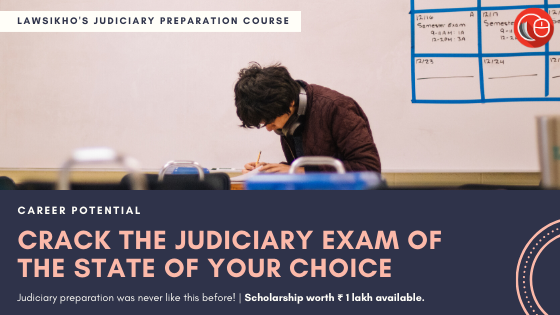 However, by the end of my final year, I was exhausted and could not wait to get out and grab the first well-paying corporate job that came my way, and even the thought of taking a shot at the Judiciary exam scared me.
This was primarily because I did not have anyone to impart any real knowledge about how to prepare for and crack the Judiciary exam. To top that, anyone I asked about the Judiciary cautioned me about the vast syllabus, which instilled fear in me.
Don't always believe what you hear
Years later, I realised I had been misinformed about many aspects of the Judiciary exam and Judiciary as a profession, primarily owing to a lack of proper guidance and the inadequate knowledge among most of my peers regarding the exam.
I should have followed the advice of someone like Harshit Sharma, a graduate from NLU Jodhpur, who cracked the Judicial examination in 2019 from Rajasthan after appearing from both that state and Delhi, and made the informed decision to choose the Judiciary after he had explored several other options in litigation, research and law firms.
Harshit, who has published a book titled 'Legal Digest on Contemporary Legal Topics' in association with LawSikho, began preparing for the exam at the end of his fourth year. In his opinion, "Judicial Services Exam tests you on the subjects that you have already covered in your law school journey. So if you, as a diligent student, have paid enough attention in your classes, it will be very easy for you to crack this exam. After I completed my graduation in May 2019, I took admission in LLM so that if I was not able to make it to the Judiciary, I would have good backup options in academics."
Make your own choices
Since everyone's journey is different, I don't expect everyone to follow Harshit's course of action, but for those of you who are keen on acquiring the social prestige and perks of being a judge, the lack of guidance and mentorship should not stop you from chasing your dreams.
Various universities have now started to become aware of the special support needed for many more students to crack the Judiciary exam. In 2020, NLU Nagpur launched an honors programme in 'Adjudication and Justicing' within its curriculum to train students to become judges after college. The Print denominated it as a "first-of-a-kind course".
However, this is not enough. Under the NLU Nagpur course, 40 students will receive exclusive training for the Judiciary every year, but will this solve the issue of the shortage of judges and backlogging of cases? We can presume not.
Universities have a long way to go before they can actually play a part in resolving the impending problem. However, that does not mean we should have to wait that long.
With LawSikho's help, you do not have to encounter the same ordeal that many others face while navigating the judicial exams preparation.
Our Judiciary exam prep course is incomparable in terms of depth and precision, and can help you realise your aspirations. Do not let fear of the syllabus, lack of guidance, lack of mentorship and insufficient study material and practice stop you from unleashing your true potential.
At LawSikho, we understand that you may have other commitments that may be stopping you from giving your undivided attention to Judiciary exam preparations. Therefore, we tailor our courses accordingly.
The number of vacancies for Judicial services is likely to continue to grow, and demand will outstrip supply. So without any further ado, grab your opportunity.