I thought I'd go crazy while preparing, I forgot the difference between day and night.
~ Anupriya Sanga, Judicial Magistrate, First Class
Unlike a lot of students who begin preparing for the judiciary during their law school days, Anupriya, who now holds a position as Judicial Magistrate (First Class) in a Jharkhand court, decided to start preparing only once she had earned her LLB degree. As a result, she had to exert herself more than others who had been preparing for years. In conversation, she once told me her path was often one of confusion, isolation and disappointment.
This is not just her story but also the story of many more students who immerse themselves in Judiciary exam preparations. SCC cites the story of Chitrakshi Sinha, who was able to crack the Judicial Services examination on her first attempt, but had to devote 10-12 hours a day to preparations, without any external help.
There is no doubt that the Indian Judicial Services examination is one of the toughest entrance exams in the country. Each year, approximately 60,000 to 70,000 applicants enrol for the Prelims of Provincial Civil Service Judicial exams and only 10 percent qualify for the Mains. Therefore, it should not come as a surprise that students preparing for the exam often resign themselves to a monotonous, isolated routine with limited time for leisure.
After all, how can you have free time for yourself when you are too busy making your own schedule, making your own course plan, gathering relevant information on your own, and going through the painstaking process of preparation, again, all on your own?
All this, while it might give you a highly rewarding result in the end, takes a mental toll on you.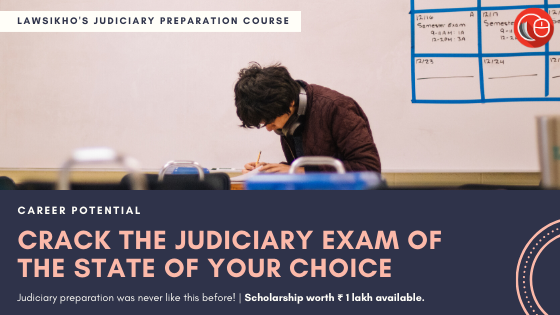 Why going solo is not always a good idea
You will ask: why did the two people I have mentioned not seek any external help?
My magistrate friend Anupriya had an answer to this, which I suspect many of you may be able to relate to.
"All coaching classes are alike. Everyone just wants money, and nobody cares what ultimately happens to us, it is better to study on your own," she said.
Being from an urban area of Ranchi, she did have several options as far as coaching classes went. However, as she asked around at various coaching centres, she felt they were unable to provide adequate guidance and mentorship, as well as a clear direction of what and how much to study .
It is indeed true that various coaching platforms in India along with educators at coaching centres have periodically come under scrutiny for alleged unethical practices. Way back in 2003, we had a case like Xl-Iit Forum And Ors. vs State Of U.P. And Ors, in which Justice M. Katju observed that "there is a widely rampant racket operating among the coaching institutes as a result of which most teachers in most of the Colleges and Universities, instead of devoting themselves to the Colleges and the Universities where they are employed, work openly in coaching institutes which have become money spinning machineries".
Should you let this discourage you?
I would say no. All you need to do is pick your external help with care. All you need is access to educators and experts who actually provide you with proper guidance.
Speak to your senior or peers in the judiciary, and the majority will emphasise that proper and professional guidance is paramount for judiciary exam training. For an exam as tough as this, you need to set realistic, strategic goals and then find effective ways to achieve those goals.
The LawSikho edge
A little help can go a long way, and we at LawSikho want to be the answer to all your judiciary exam troubles.
This message began with the intention of giving you a sneak preview of the path to becoming a judge, and as we are almost at the end of the message, I would simply like to draw your attention to how, with our help, you will certainly gain an edge over the competition.
Our experts and mentors do not just give you half-hearted advice in return for your money. Rather, they are passionate about truly helping you fulfil your dreams of becoming a judge, and always go above and beyond their stated job roles whenever you need it. Unlike coaching centres where students are taught by experts who could not clear the Judiciary exam themselves, LawSikho has mentors like Resham Rana, who cleared the exam with flying colours but wanted to help other aspirants rather than join the bench herself.
We also provide guidance on past years' paper analyses, how to prepare and what to read, the mock tests you need to prepare for, and how to prepare in a limited daily study time.