What is the fundamental requirement to clear any competitive examination?
Knowing the nature and pattern of the examination, wouldn't you say? Because without understanding what questions will be asked and how, you can't expect to crack the paper.
But when it comes to organising examinations for the lower judiciary, almost every Indian state has its own syllabus and examination pattern.
Most states with their own High Courts conduct examinations for lower judiciary independently. India has 25 high courts and almost all of them have their own examination system and individual syllabus for each exam.
That is a big reason why law students are wary of choosing the Judiciary as a career option.
Are you among those who are fearful of the vast syllabi of different state judiciary examinations?
Do you feel you can't prepare for two-three state examinations simultaneously?
Let me bust the myth for you.
First, have a look at the syllabi and patterns of some major state judiciary examinations:
Delhi Judiciary Examination
The examination is divided into three parts – Preliminary, Mains and Viva
Preliminary
Multiple choice questions (MCQ) – online exam
Syllabus – General knowledge & legal knowledge
Total 200 questions
One-fourth negative marking for each incorrect answer
Mains
This stage includes four papers with a total of 850 marks
All papers are taken in descriptive writing form
| | | |
| --- | --- | --- |
| Paper | Subjects | Marks |
| I | General Knowledge & Language | 250 |
| II | Civil Law – I | 200 |
| III | Civil Law – II | 200 |
| III | Criminal Law | 200 |
To clear the Mains, a candidate has to score a minimum of 40 percent in each subject and 50 percent overall
For reserved categories – 35 percent in each subject and 45 percent overall
Viva
The viva interview carries 150 marks
Final Merit
The combined marks of each subject in Mains and Viva are counted for the final merit result
UP Judiciary Examination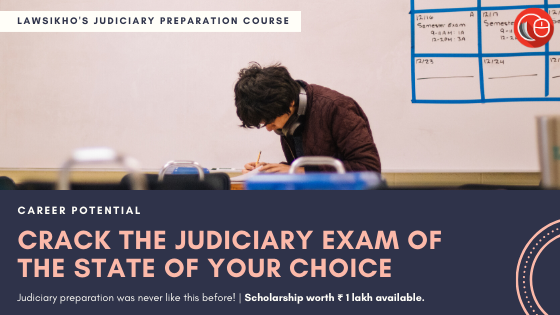 Once again, the three stages are Preliminary, Mains and Interview
Preliminary
It consists of two papers

General Knowledge (150 marks)
Law (300 marks)

Two hours are allotted for each paper
All the questions are MCQ
Mains
Five subjects carrying a total of 1000 marks
Each paper has an equal weightage of 200 marks
| | | | |
| --- | --- | --- | --- |
| Paper | Subject | Exam duration | Marks |
| I | General Knowledge | 3 hours | 200 |
| II | Language | 3 hours | 200 |
| III | Law – I (Substantive Law) | 3 hours | 200 |
| IV | Law – II (Procedure and Evidence) | 3 hours | 200 |
| V | Law – III (Penal, Revenue, and Local Laws) | 3 hours | 200 |
Viva
Final result
Merit list based on marks obtained in Mains and Viva
Preliminary is qualifying for Mains only
Bihar Judiciary Examination
BJS also follows the Prelims, Mains and Interview pattern
Preliminary
Paper I – General Knowledge, Current Affairs, Elementary General Science (100 marks)
Paper II – Legal (150 marks)
To clear the prelims, you need a minimum of 45 percent for general and 40 percent for reserved category candidates
Mains
It consists of five compulsory papers
| | | |
| --- | --- | --- |
| Papers | Subjects | Marks |
| I | General Knowledge & Current Affairs | 150 |
| II | Elementary General Science | 100 |
| III | General Hindi | 100 |
| IV | General English | 100 |
| V | Law of Evidence & Procedure | 150 |
From the list below, three subjects must be chosen as optionals
Constitutional & administrative law
Hindu Law & Muhammadan law
Law of Transfer of Property, Principles of Equity and Law of Trusts and Specific Relief
Contracts & Torts
Commercial Law
Viva
An interview carrying 100 marks is conducted after the mains
Minimum 35 percent marks are mandatory to clear the viva
Final Merit
Final merit is based on marks obtained in Mains and Viva
What is common to these syllabi?
If you have clearly observed the syllabus and pattern of the Delhi, UP and Bihar judiciary examinations, you must have noticed the many commonalities.
For example, in Bihar and UP, Civil & Criminal procedural laws are covered in the same paper and substantive laws in different papers. For Delhi Judiciary, both procedural and substantive law are combined in the same paper either under Civil or Criminal Law.
In a way, the syllabus is almost the same for all the examinations. Only the combination and pattern of questions change according to state. It is also clear that all three exams have common General Knowledge papers.
Thus, it will be safe to say that all the states have almost the same syllabus. Only marking and paper patterns are different.
What about other states?
If you compare all the judiciary examination syllabi of all states, you will find several common elements. From civil to criminal and substantive to procedural, only combinations of the papers are different.
A significant point of departure is related to languages. While English is common in almost every judiciary examination, some states specify their respective regional languages as per the norms of the lower judiciary.
States like Karnataka provide two years (probation period) for a candidate to clear the Kannada paper. Similarly, states like Punjab have made Gurumukhi a qualifying paper (35 percent weightage). Hindi remains applicable for Hindi-speaking states.
So as you can see, it is only numbers and unfounded assumptions that scare us. You can easily prepare for judiciary exams in two or more states with the right guidance and mentorship.
Want to learn more about various judiciary exams?
Do you want to learn more about the preparation strategy for Judiciary examinations in India?
Are you struggling to find proper guidance and mentorship for the examination? Do you know which texts to study and how much time you need to devote to them?
Do you want to know which state Judiciary exams offer you the highest chances of success?
LawSikho can answer all these questions for you and prepare you for the Judiciary exam in multiple states at the same time along with several other legal competitive exams.