I want to begin by discussing the reasons why you should pursue a career in the Judiciary despite the challenges.
Think about what motivates us to opt for a career, any career. While our passion might play some part in it, a large part of our motivation is based on the benefits associated with the career.
So what are the perks you enjoy as a judge?
Financial benefits
Senior professionals working in corporate law firms in India can earn up to INR 29.5 lakh per annum, while the average salary would be around INR 6.5 lakh per annum. On the other hand, judges start earning as much only after completing five years of entry or selection grade.
While corporate lawyers can earn over a lakh per month on joining or after the first couple of promotions, it takes five years for a first-class magistrate to earn over a lakh and another five years after the first ACP to earn over INR 1.5 lakh per month. Thus, at a first glance, it may seem as though the financial benefits of being a judge are not as great as those of a corporate lawyer, which is why a lot of law students choose to take the corporate route.
However, this is not necessarily a correct assumption.
While the average salary of entry-level judges may be less than that of corporate lawyers, the perks provided to the judges more than make up for it. Unlike corporate lawyers, judges are offered perks such as residential accommodation, furniture grants, grants for maintenance of residence, security guards, sedan vehicles, telephone allowances, free electricity and water, medical allowances, children's education allowances, as well as newspaper and magazine allowances. Therefore, their cost of living is minimal, and their salary can afford them all the luxuries they want, more so than many jobs in top Indian law firms.
Like icing on the cake, salaries of judges have increased significantly following a proposal by the 2nd National Judicial Pay Commission. A Junior Civil Judge/First Class Magistrate whose starting pay used to be INR 27,700 now earns INR 77,840 per month.
Recession-proof career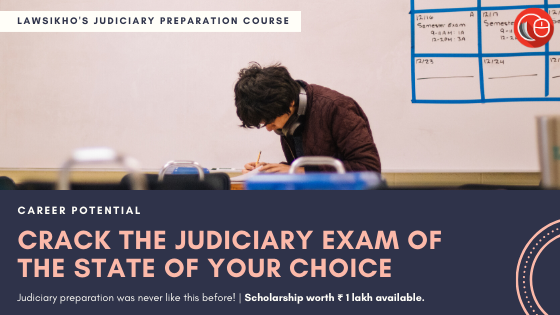 As the Covid pandemic showed us, the only jobs that are secure during a time of great economic turmoil are government jobs. Even CEOs and other high-ranking corporate executives were rendered jobless overnight, and thousands of mid-level employees living paycheck to paycheck struggled to build alternative careers.
As a high-flying corporate lawyer in a firm, what is the guarantee that the next recession will not take your job away once the firm adopts cost-cutting measures? Do you really feel what you thought of as your fancy salary will offer you any buffer once the paycheck stops coming in?
Social prestige
Prestige and judgeship go hand in hand. Thanks to countless representations in popular culture, everyone is familiar with the sight of lawyers, defendants, plaintiffs and the audience standing up as soon as a judge enters the courtroom to honour his/her presence.
Given that judges play an important role every day in dispensing justice to rich and poor alike without bias, there is hardly any other profession that can bestow similar levels of honour and respect upon you.
According to Justice D.P.S Chauhan, judges command respect and obedience from all, irrespective of political, social, or religious beliefs, and the faith of the people in their administration of justice is as "sacred as the river Ganga".
Think about the countless outstanding judges India has produced through the years, and continues to do so. They represent the cream of the legal profession, and feature prominently in media headlines every other day. Given the right strategy and planning, what would stop you from joining this elite group?
Autonomy & influence
The Constitution of India guarantees the independence of the Judiciary from any other branches of the government. This is based on the principle of 'separation of power' and prevalence of 'rule of law' in the modern legal system, and this essentially indicates that even the rulers of the nation are subservient to the law.
If you are still second guessing your decision to take a shot at the Judiciary examination, think about how, as a magistrate, you can keep a check on misuse of power by the legislative and executive branches of the government.
Therefore, you have administrator-like abilities and act as the final authority in law, as well as possess the immense power of deciding the fate of people and driving positive changes in society.
The road is difficult, not impossible
As a judicial magistrate, therefore, you can make a difference in a lot of lives. But there is a catch.
The Judiciary exam is one of the toughest competitive examinations in the country and requires hard work and focus. Being a judge is not only about having sound knowledge of the law, but also about learning to overcome personal bias and handling practical challenges.
Which is why we at LawSikho would like to help you clear all your doubts regarding the exam. Pursuing judgeship is a decision that lies solely upon you, but in order to make the right decision, you must know what it takes to become a judge, and the enormous privilege and prestige associated with it.
Our objective is to ensure that you gain first-hand knowledge of what preparing for the exam requires. Therefore, we will connect you with experts who have cleared the examination themselves and are passionate about helping you do the same.